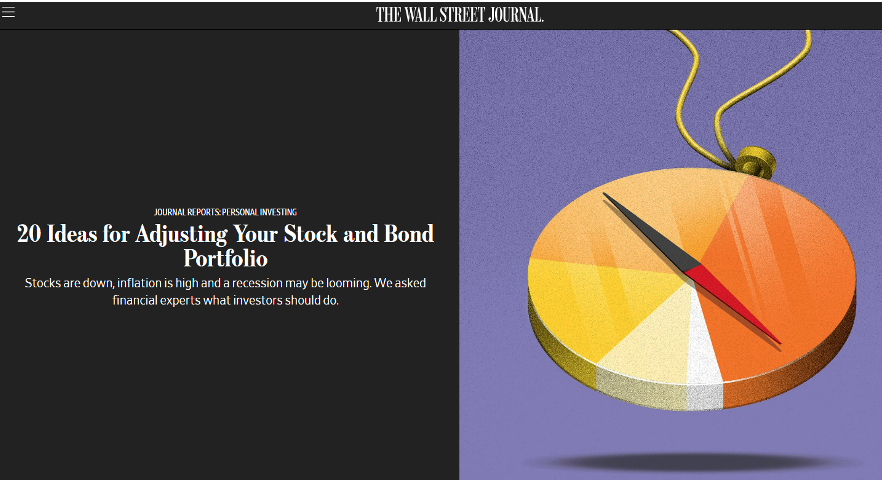 By Cristina Lourosa-Ricardo
Updated Aug. 7, 2022 6:00 am ET
Is it time to rethink the percentage of stocks you hold in your portfolio? The standard ratio is often 60% stocks and 40% bonds. Of course, that varies depending partly on an investor's age or risk tolerance. But with stocks down, inflation rising, and a possible recession being declared, some experts say the conventional wisdom might need adjusting.
We asked experts for their thoughts. Even the ones who say the percentage shouldn't necessarily change say investors would do well to make some adjustments.
Here is their advice:
High-quality IT firms are bargains.
The market selloff earlier in the year has reduced some investors' equity allocations to far below their previously targeted levels. And for investors with a sufficiently long time horizon and risk tolerance, the recent volatility has created an opportunity to increase their exposure to equities to rebalance those portfolios by purchasing stocks at much cheaper valuations.
Generally, we are impressed by the resilience of corporate earnings projections in the face of the myriad challenges to profit margins, which should lead to higher equity returns in the future. More specifically, with earnings multiples in the information-technology sector having dropped precipitously, along with the fact that current analyst consensus is still forecasting double-digit earnings growth for the sector over the next year, there are opportunities to invest in innovative, high-quality tech companies at valuations we have not seen in several years.
-Sharon Olson, President of Olson Wealth Group, Bloomington, Minn.